On 29.9.2016 CROSSROADS' 15th Anniversary Concert at the Purple Lounge in Mondorf was recorded with 7 cameras and 24 audio tracks. To present the  DVD/BLU-RAY production, a 6 concert "LIVE & ACOUSTIC" tour has been organized for 2018.
CROSSROADS is very proud to have Irina Holzinger with them for the tour in 2018.
The DVD is exclusively sold in the shops of LIBRAIRIE ERNSTER
and can of of course be acquired at the live concerts of the band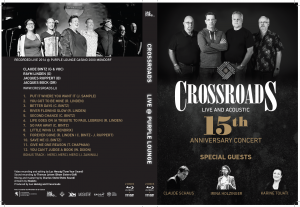 You can find the details of the concerts on the band's web page (www.crossroads.lu) at "Live dates" or on the band's Facebook page (www.facebook.com/crossroads.lu).
Teaser: